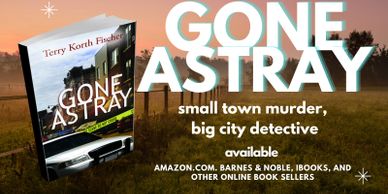 Please help me welcome Terry Korth Ficsher to my blog today. She shared a little of what she has been working on and what's to come, plus she answered ten speed questions so we can get to know her.
Without further ado, let's hear from Terry!
Thanks for hosting me, Cherie. Things have been crazy and now that they are slowly returning to normal, I hope to do some face-to-face book signings. What an exciting opportunity—but a little bit scary. I'm polishing a second Detective Rory Naysmith mystery. With any luck, it will be finished this summer, and available… well, we'll see.
Speed questions:

Morning or night? Morning

Coffee or tea? Rich-Dark-Coffee

eBook, paperback, or audiobook? Paperback

Plotter or Pantster? Drifting plotter

Favorite season? Summer

Dogs or cats? Kittens

Night on the town or cozy evening in? Cozy evening in, books, fire, wine.
Last book read? The Unlikely Pilgrimage of Harold Fry by Rachel Joyce
Stilettos or flipflops or sneakers? Flipflops
Cake, cookies, or pie? Rhubarb pie
Gone Astray
by Terry Korth Fischer
Genre: Mystery, Cozy Crime
A heart attack sends detective Rory Naysmith reeling. Too young to retire, he accepts a position in small-town Winterset, Nebraska. Handed an unsolved truck hijacking case, with the assistance of a rookie, Rory sets out to prove he is still able to go toe-to toe with younger men. When the body of a Vietnam veteran turns up, he dons his fedora and spit-shines his shoes. But before he can solve the murder, an older woman disappears, followed closely by a second hijacking. He doggedly works the cases, following a thread that ties the two crimes together. But can Rory find the mental and physical strength to up his game and bring the criminals to justice before disaster strikes.
Read it today!
"What's the story?" Rory asked, shoving his hands deep in his pockets as they approached. If asked, he'd have said he did so in an attempt to appear nonaggressive, but in truth, it hid his excitement jitters.
Lloyd, a thin, angular man, said, "Happened this morning right at dawn. Jim and I were making a drive-by. Checking for vagrants or anything suspicious."
"You saw something odd?"
"There was a citizen complaint about a prowler. It was pretty quiet last night. We took the call around four. You wouldn't know, being a nine-to-fiver, but it breaks up the time and beats riding around in the car all shift trying to stay vigilant. Right off, we found this here construction trailer wide open. It took us a little longer to find the body."
"You found him?"
"Yeah. We're waiting for the coroner now. I called it in. They said we better have a detective take a look." He gave Rory a suspicious glare and headed to the rear of the property.
Rory and Thacker followed. At the edge of the property, the wind had swept a pile of leaves against the wooden fence. The body lay partially buried. "You've photographed the scene?" asked Rory.
"Yeah, we know how to do it. Don't worry, we done everything by the book."
Rory knelt beside the body. The top half of the dead man's torso was exposed where the wind had cleared away the fallen leaves. The man's weathered face was unshaven and severely beaten. He recognized Vietnam War campaign patches on the worn army jacket and noted thin threads poking through the fabric where his name patch should have been. Using a pen, he lifted the front of the tattered jacket and revealed a gaping wound.
"Not a lot of blood here," he said. "Did you move him?"
Lloyd's expression conveyed irritation. "We know better."
Rory shook his head. "There's the basic problem with mankind. You tend to your business, work hard, but there's always some fool right there ready to take it away. What do you think, mugging?"
Lloyd nodded, but Rory could see he didn't buy it. This wasn't a case of trespassing. From the look of things, it wasn't an accident, a foiled robbery, or a mugging gone wrong. It was murder, and this wasn't the place where it happened.
"Any witnesses? You talk to the complainant?"
Before Lloyd could respond, they were interrupted. "Yo, Lloyd, what ya find?" The newcomer was as wide as he was tall, his face alive with good humor. He carried a medical bag. Ducking under the police tape, he said, "You must be the new detective." He stuck a hand out. "Petey Moss. County coroner." Petey's rotund belly moved up and down as he pumped Rory's
hand, and the action pushed the scent of Aqua Velva into the atmosphere around them.
"I suppose you want to know if he's dead?" Petey squatted beside the body, and Rory watched him conduct the exam. It didn't take long to confirm the death. "Yup, as a cinder block. Not a good spot for a nap."
Thacker wandered off. Rory stuck with the coroner while the body was removed and loaded for the journey to the morgue. He hated the time between discovery and the moment a case got turned over. He was itching to get started, but more, he hated the thought inexperienced law enforcement might contaminate the crime scene. He didn't know Winterset, and he didn't know this coroner. He wasn't about to let someone mess up his opportunity, so he would keep a watchful eye.
About the author:
Terry Korth Fischer writes mystery and memoir. Her memoir, Omaha to Ogallala, was released in 2019. Her short stories have appeared in The Write Place at the Write Time, Spies & Heroes, and numerous anthologies. Transplanted from the Midwest, Terry lives in Houston with her husband and their two guard cats. She enjoys a good mystery, the heat and humidity, and long summer days. Visit her website at https://terrykorthfischer.com
Connect with Terry