Hi everyone!
Today I have C. Becker, author of Finding Euphoria.
What research did you do before writing this book.
I spent many hours researching acetylcholine and dopamine receptors in the brain when I wrote this novel. I researched not only the addiction aspect, but also how neurotransmitters are linked to OCD, depression, and other psychiatric disorders. Research brings new information every day, and scientists have found many new discoveries since I had gone to college. Although the research was time consuming, I enjoyed learning. I also studied how pharmaceuticals design drugs from different plants. I was surprised when I read some spices like nutmeg contain a drug called myristicin, which in higher doses will cause adverse effects on the sympathetic and central nervous system. Deciding it was best not to target a certain plant or spice, I made up a shrub from the Amazon Rainforest and had Euphoria refined from the plant.
Another part of the research was Parkinson's disease. My great-uncle had Parkinson's and died in the 1970s. I feel this disease is often forgotten, so I created a character with Parkinson's, too.
Can you tell us about a book that stayed with you long after you finished reading it.
I read Pillars of the Earth by Ken Follett twenty years ago. Although he added a lot of graphic violence in the medieval story, it was believable because of the historical setting. I've never seen a book with so many subplots woven in a story. I later watched the mini-series and read one of the sequels. It still rates as one of the best books I've ever read.
What is your favorite comfort food?
Anything Chocolate
Any exciting news to share?
Finding Euphoria is available in paperback, ebook, and audiobook.
Losing Euphoria, the second book in the Euphoria series is under contract with The Wild Rose Press. This story takes place 6 years after Finding Euphoria ends. I'm currently writing the third book in the Euphoria trilogy.
Finding Euphoria
Genre: Romantic Thriller
A spicy PG13 read
Blurb
Hailey Langley refuses to be a victim and has moved on from her traumatic past. But her marriage problems worsen when a deadly illicit drug threatens to draw her into the life she left behind.
Mark Langley has allowed his job to interfere with his marriage, but he never suspected the secrets in Hailey's past might hold the key to solving both of his current investigations.
Together, they must unravel the mystery of the drug called Euphoria and find a way to save not only their marriage, but countless lives, before it's too late.
Buy links
They hurried to the wall and began sliding books across the shelf. One of the books would open the latch, but which one? She worked swiftly.
A whiff of his aftershave stirred her senses. It was an earthy scent. Their gazes met, but she broke it off. She tested another section of books across the shelf and felt him studying her. Her heart fluttered. Focus, Hailey. Why had he kissed her the previous night? She was a married woman. "We need to work fast. Security cameras are all over this place."
A soft click sounded near Parker and she rushed over, following him through the doorway.
He turned on a light. "Hurry."
The small chamber smelled like leather and cigars. A computer rested on top of a writing desk. Parker headed straight to the computer and turned it on. He began rifling through the files in the filing cabinet next to the desk. "It's booting. Find what you can. We'll only have a few minutes."
Hailey hurried to the rear of the room and rummaged through a pile of letters spread across a cherry wood desk.
Parker turned back to the computer and typed on the keyboard. "I'm in!" He shoved a hand in his pants pocket and pulled out a jump drive.
"Already?" She glanced up. "How did you figure out the password?"
He inserted the jump drive in the computer. "I took a shot at Euphoria."
She searched through a stack of files. A large desk calendar shifted, exposing a tan envelope. "This might be what we're searching for." She pulled a packet from the envelope. On the top corner of the cover page was the word EUPHORIA. The page below had an image of a chemical structure. "Bingo!"
"What did you find? Can you identify the drug?"
"Give me a minute." Hailey flipped through the packet. "I need to study this."
"There's not much time."
She opened her purse. "Stefan gave me a camera. I'll take some photos of the…Oh, shit."
"What?"
"The camera's missing!"
"What do you mean?"
"It must have fallen out while I was in line for the bathroom."
"Dammit!"
"It's okay. I'll use my cell phone." She took out her phone and pressed the button.
"Keep snapping." Parker typed on the keypad. "The files are downloading."
Quickly, she worked, turning page after page of the packet. Her phone beeped. A text message appeared on the screen: ABORT MISSION.
"Oh, no. Parker, we have to get out of here."
"I need a couple more minutes."
She tilted her head. Footsteps thudded down the hall. "Now! They're coming."
Dammit! Parker jerked the drive from the computer and shoved it in his pocket. He grabbed Hailey's arm, and they darted from the room. With his free hand, he drew a semiautomatic from his pants.
"Hurry. They're almost here," she whispered.
They raced to the sitting room window. Parker climbed out the opening and stepped on the stone ledge. He offered a hand to Hailey. "Careful."
She lifted the bottom of her dress and swung around. As she grabbed his hand, the cell phone dropped. "My phone!"
"Leave it. They're coming!"
Ignoring him, she leaned over and stretched her fingers. The door swung open, and she raised her head. Two men bolted into the room. She left the phone on the floor and turned. A strong hand grabbed her arm and threw her on the floor. She kicked as a wet cloth pressed over her face. Gunshots blasted, and the darkness consumed her.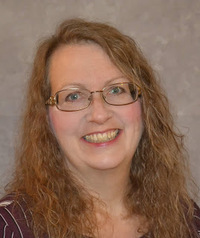 About the author:
A native of western Pennsylvania, C. Becker earned a B.S. degree in Medical Technology and MT (ASCP) certification. She has worked in clinical settings analyzing body fluids and testing drugs of abuse. As an author, C. Becker has published multiple stories in various genres.
Connect:
Website
|
Blog
|
Facebook
|
Twitter
|
Instagram
|