I'm super excited to have Katie Sparks, author of middle grade novel, Reality Natalie, with me today. Katie's not only a talented author, but she's a good friend of mine, so I've had the pleasure of seeing this story take shape. Katie does a wonderful job of capturing the voice of an eleven-year-old in a fun and entertaining novel.
About the book:
REALITY NATALIE
by Katie Sparks
Publisher: Firedrake Books, LLC
Synopsis:
CAMERAS ROLLING…ACTION! The most popular kids' TV show, Kidz Konnection, decides to hold auditions for a guest host spot, and the show's BIGGEST fan decides to audition.
[Cue Natalie Greyson]
Eleven-year-old Natalie is determined to overcome her habit of turning into a tongue-tied, air ball burping, runny-nose disaster whenever something embarrassing happens in front of an audience so she can audition for the coveted role. As the show's biggest fan, no one could possibly deserve it more than her. Except a giant obstacle stands in her way: her parents, who deny her permission, think she is too young to be on TV. To make matters even worse, Natalie's naturally talented best friend, Kailyn, decides to audition too, and will stop at nothing to win – like lying during a practice session and tearing up their friendship pact.
With their friendship suddenly in question, Natalie turns to her blog, In A "Nat" Shell, to vent her frustrations about Kailyn's spiteful actions, but Natalie's emotional outpouring and lies only creates more anxiety for herself. With the stakes high, Natalie goes against her parent's wishes and decides to audition, but Kailyn has her own secret plan to be Number One, even if it means doing so at the expense of her best friend. Can Natalie find a way out of the drama and into the spotlight? Or will the competitive pressure cause her to lose her ultimate dream along with her best friend?
Read Reality Natalie today!
Without further ado, please help me welcome Katie Sparks.
Cherie: Tell us about your book, Reality Natalie.
Katie: Reality Natalie follows the adventures of 11-year-old Natalie Greyson as she auditions for a guest host position on her favorite kid-hosted TV show, Kidz Konnection. When big obstacles stand in her way, such as her parents denying her permission to try out and her best friend, Kailyn, choosing to, Natalie decides she'll do just about anything to get what she wants. But at what cost?
Cherie: I like Natalie already, and I love that she wants to be a talk show host. How did you come up with the idea for this book?
Katie: About 5 or 6 years ago, I was completely enthralled with all of the reality shows that were popping up on TV. They ranged from singing competitions and talent shows to cooking or bake offs and clothing designer contests. The list became endless. But one thing I noticed was that none of them were for little kids. At the time, I believe the youngest person who could audition for American Idol, had to be 16. However, I knew that despite these rules, some of those watching these shows were kids! From that realization, I thought about a girl who was obsessed with reality television. Thus, Natalie was born.
Cherie: What is your favorite (or least favorite) thing about writing for this age group?
Katie: I take what I write about seriously – sometimes too seriously. I really want to make an impact on young readers, whether it's to make them laugh, gasp, sigh, get mad -- any type of emotion – I want to move them. But sometimes I over think it and it prevents me from simply writing down the story. I'm always asking myself, "Is this how a kid would say that?" "Is that how they would react?" It's smart to keep these questions in the back of your mind, but not smart if it prevents you from capturing the story. I have to keep reminding myself that first drafts are tough and that I can always go back later and add in more detail.
Cherie: Your dedication to get Natalie right shows. Can you share with us something about Natalie that we don't learn in the book?
Katie: In the very beginning of the book, she puts off doing her math homework. Natalie is not one for homework unless it's writing on her blog. Math is her least favorite subject, and reading is her favorite. Her homeroom has SSR (sustained silent reading) and she loves it so much, she wishes it could be the whole day! She'd get some many books read! She also takes weekly visits to the local library, and loves the smell of the old pages. She mainly goes for her twin siblings but also because she needs to check out books from the reading list at school. This year, she hopes to join the Battle of the Books club with her two best friends.
Cherie: I'm with Natalie, only I wish I could read all day at work. What are you working on now?
Katie: I'm always working on a million things at once. (Okay, maybe not a million, but a lot!) Right now I'm participating in NaNoWriMo and working on a challenging story about two 12-year-old girls battling asthma and how it affects their lives. It's such a new story that I don't have all of the details figured out yet, but I'm having a wonderful time getting to know them as I go.
I'm also a picture book writer so at any given time, I'm jotting down ideas or working on a story. I work as an editor for a parenting consumer line so I'm constantly around parents who have the cutest, funniest stories about their kids and it sparks so many ideas! Hopefully one day one of these ideas will come to fruition.
Cherie: Sounds like you have a lot of fun projects in the works. I can't wait to hear more about your NaNo book. The next questions are for fun to get to know you better.
Favorite animal?
Katie: A cat. More specifically, my cat, Moe. I have a feeling if I didn't say her, she'd attack me in my sleep!
Cherie: M&M or Skittles?
Kaite: Skittles (but not the yellow ones!)
Cherie: Are you a morning person or an evening person?
Katie: I used to be a night person but lately I've become a morning person. There's nothing better than getting up around 7am or 8am when the whole world is still quiet and you can make breakfast and relax. The best part about the morning is being able to brew some coffee and write or read. My weekdays are very busy at work, so it's super nice to slow down on the weekends.
Cherie: Favorite movie or television show?
Katie: It's a tie between the movies Independence Day and Breakfast Club.
Cherie: Breakfast Club is one of mine, too.
J
Do you have any guilty pleasures that get you through the writing/revising process?
Katie: Not sure this is a guilty pleasure but if I get stuck, I read! I know that sounds cliché but when I'm in love with a story or characters, not only do I get some quality reading done, but it pushes me back into the motivated mind-set to turn my characters and story into something that someday a reader will love. Reading gives me the kick in the pants that I need.
Cherie: Do you have a favorite place to write?
Katie: One of my favorite coffee shops is The Wormhole in Chicago. It has a great retro vibe to it with an 80s and 90s flair. Oh, and superb coffee!!
Cherie: Who is your mentor (or hero)?
Katie: My Mom.
J
She's a children's librarian, so we always have so much in common to talk about! I enjoy listening to stories about what kids are checking out these days and what things they are looking for. I also love catching up on reading as many of the Rebecca Caudill books as I can!
Thanks, Katie, for taking the time out of your busy schedule to be here with us!
About the author: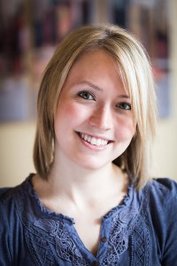 At a very young age, Katie Sparks discovered the magic of books. She counted on weekly library visits and treasured receiving her first library card at the age of five. At six, she wrote her first story called Baby Carrie (still in her collection today!)
Katie knew then that writing would be in her future. By day, she is an editor for the parent consumer line at a non-profit medical association and enjoys working closely with authors and industry professionals. Immersed in the publishing industry in both her professional and personal life is a dream come true. On weekends you will often find her writing and sipping coffee at one of the many unique coffee shops in Chicago, spending time with family and friends, or curled up with a new book.
Katie has been an active member of SCBWI for the past seven years. She lives in Chicago with her devoted and extremely vocal cat Moe. Her upcoming MG Novel, Reality Natalie, published by Firedrake Books, is her first novel.
Learn more about Katie Sparks and her books: